Arizona Car Accident Lawyer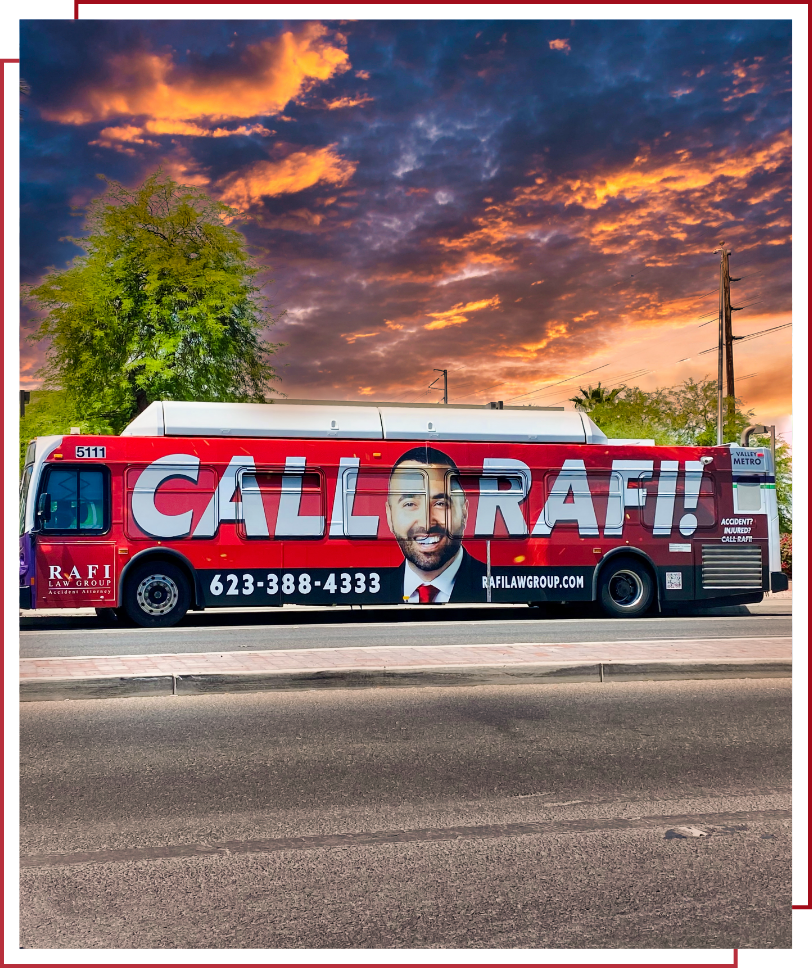 Arizona Car Accident Lawyers
Traffic Accident Attorneys in Arizona
Were you in a car accident anywhere in Arizona? You could have the option to seek compensation from the driver who hit you. However, the road to your financial recovery is likely to be a challenge, especially if you were badly injured and the other driver doesn't want to be blamed for something so serious.
Rafi Law Group is proud to offer reliable legal counsel to drivers throughout Arizona. If you were in a car accident that you know wasn't your fault, then we want to talk to you. Our passion is helping people recover the damages they are owed and secure the justice they deserve.
---
Contact our Arizona car accident attorneys online for a FREE consultation.
---
Common Types of Car Accidents
You never know when another driver is going to mess up and cause a crash. You also won't know what type of crash it is until it happens. For this reason, we at Rafi Law Group have taken the time to familiarize ourselves with all sorts of car accident types, claims, and lawsuits. If you were in a traffic collision, then we have the experience and insight to help.
Common types of car accidents in Arizona include:
Head-on collisions: A head-on collision is likely to result in catastrophic injuries because the velocities of both vehicles are combined at the point of impact. For example, two cars traveling at 25 mph will collide with a 50-mph force if they hit head-on.
Rear-end accidents: A rear-end collision can cause a serious neck injury called whiplash, which occurs even in low-speed impacts. If you were rear-ended and feel sore at all, then you should see a medical doctor as soon as possible for a checkup.
T-bone accidents: Most cars do not have significant protective measures on their sides, which can make a T-bone accident extremely dangerous.
Rollovers: Certain vehicles are designed to be top-heavy, which can cause them to flip over during sharp turns or accidents. SUVs are notorious for having a higher-than-average rollover risk, especially in older models.
Multivehicle accidents: You can leave everything up to our firm if you were in a multivehicle accident in Arizona. We can investigate the circumstances to determine liability, whether there were two or a dozen other drivers.
What to Do & Not Do After a Car Accident
The decisions you make and actions you take after a car accident can be significant for your claim's validity later. It's also true that what you don't do can be just as important.
After a car accident, you should:
Seek immediate medical attention.
Collect contact and insurance information from all parties.
Use your smartphone to document the scene of the crash.
Go to the doctor after if you didn't need urgent medical care.
Talk with an Arizona car accident lawyer soon.
After a car accident, you should not:
Leave the scene before all information is exchanged.
Apologize or say, "I am sorry."
Ignore your doctor's orders for aftercare.
Lie at any point throughout the claim process.
Accept an insurance settlement without letting your lawyer see it first.
Common Injuries in Car Accidents
We focus primarily on car accident cases that involve catastrophic and life-changing injuries, so we are available for the people who need our experienced counsel the most. If you have been seriously injured in a car accident, then you can take some comfort in knowing that we have probably seen many cases like yours before. We know how to work with medical experts to figure out the details of your injury and how it will impact your life for years to come.
Common injuries reported in Arizona car accidents include:
Whiplash and neck injuries
Head and brain injuries
Back and spine injuries
Broken bones
Burn injuries
Permanent scarring
Evidence to Help Prove Liability
Arguments against defendants often need to be backed up by concrete, tangible evidence. Our Arizona car accident lawyers know where to look for useful evidence that proves that what we say is the truth. The goal is to make it so difficult for the defense to position its case that they are more tempted to offer a fair settlement sooner than later.
Evidence that could help prove the other driver is liable could include:
Dashcam footage
Traffic cam footage
Police reports
Eyewitness statements
Photos from the crash scene
Medical records
Get Ready for Anything – Call Our Firm
The unexpected can happen at any time during a hotly contested car accident claim. Be ready for whatever the defendant and auto insurance company throw at your case by teaming up with Rafi Law Group. Our Arizona car accident attorneys are known throughout the state for combining compassionate counsel with winning strategies.
---
Call (623) 207-1555 if you've been in a car accident in Arizona.
---

"I was very pleased with their work, they were very helpful and supportive, would absolutely recommend it. They kept me updated on every single detail of my case and were very informative."

- Kaitlin G.

"The Staff here are very understanding and ready to help! Everything was explained to me in detail and they made sure I understood. I have the utmost appreciation and respect for Rafi Law Group!"

- Priscilla A.

"They offer speedy service and are very friendly. They keep you updated through every step of your case. If you need a Law Group that will work hard for you, choose Rafi Law Group because they get the job done."

- Jennifer C.

"I was unsure about my accident and didn't know if I would get compensated for my injuries. The team at Rafi gave me peace of mind. Shout out to Daniel, Jaimie, Jessica and anyone else I forgot that helped along the process. Professional and courteous"

- Suriya S.

"Great people, fantastic service, very streamlined. After my accident, they were there to help me and I could not be happier with their performance."

- Jared H.
Arizona Car Accident FAQ: