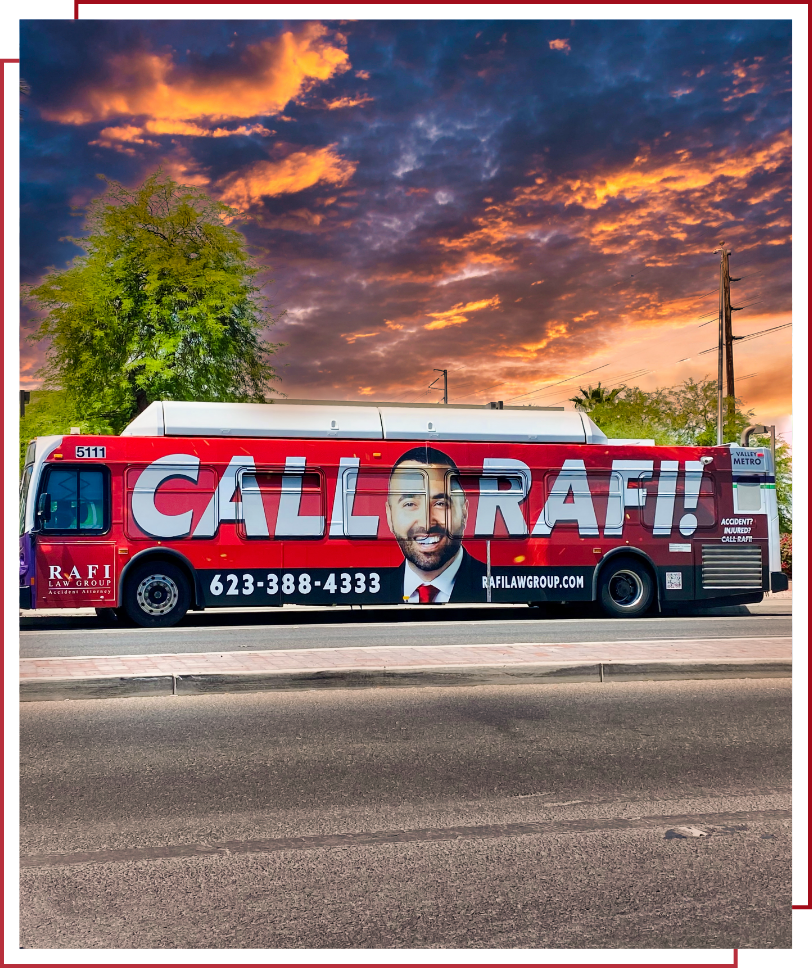 Mesa Personal Injury Attorneys
Helping with Injury Claims & Lawsuits
Were you in an accident in Mesa, AZ? Do you know it wasn't your fault, but the liable party is saying otherwise? If you aren't careful with how you proceed, then you could get stuck with the high costs and consequences of the accident.
Rafi Law Group and our Mesa personal injury lawyers are here to help you understand your rights after an accident. If you are owed compensation from the other party, then we want to be the team that stands up for you and fights for it. We have done this for countless locals since opening our firm, earning our team a long list of impressive case results.
---
See what our dedicated team of Mesa injury lawyers can do for you. Call (623) 207-1555 now.
---
Personal Injury Case Types
Personal injury cases can take many different forms and types, depending on what sort of accident happened. We have a large team of attorneys who can work together on complex cases. By combining our knowledge and experience, we can handle virtually any case you bring to our desks. If for whatever reason we don't think our firm is the right fit for your case, we can also refer you to a trusted law firm thanks to our positive reputation in Arizona-wide legal circles.
Come to our firm with your personal injury claim, including these types and more:
Car accidents: We have extensive experience helping clients with car accident claims. Indeed, car accidents are one of the most common reasons for hiring a personal injury lawyer.
Catastrophic injuries: Did your life change permanently due to an injury? Bring your case to our catastrophic injury lawyers who will respect the severity of the situation.
Motorcycle accidents: Our attorneys are well-versed in motorcycle accident claims, which often involve catastrophic injuries and stubborn insurance companies that want to blame the rider no matter what.
Premises liability: You might be able to file a premises liability claim if you were hurt due to a defect or hazard on someone else's property. Let us help.
Truck accidents: Truck accident claims are challenging because the defendant is often a trucking company that's backed by a major insurance corporation. Team up with us to empower your claim.
Wrongful death: It would be our honor to manage your wrongful death claim after losing a loved one. We want you to rest, grieve, and be with your family, not get lost in legal busywork.
Compensation for Damages
Everyone who files a personal injury claim after an accident has one thing at the forefront of their minds: compensation. You have lost money, time, energy, and happiness because someone else was reckless, negligent, or intentionally malicious. It is only right that you expect fair compensation in return. The purpose of the compensation sought in a personal injury claim is to get the plaintiff back to how they were before the accident, or as close to that state as possible.
Compensation in personal injury claims is often divided into two main categories:
Special: Lost wages and medical bills are two of the most common types of special damages, which relate to tangible, trackable financial losses caused by an accident or injury.
General: Pain, suffering, and reduced enjoyment of life are among the most common types of general damages, which relate to more abstract forms of harm and loss.
Personal Injury Statute of Limitations in Arizona
Arizona uses a two-year statute of limitations for most personal injury claims. This statute means that you have two years from the date of your injury or accident to file a claim. If you don't, then you won't have the option in the future.
Keep in mind that the statute of limitations for your case could be shorter than two years based on specific details of the accident. Don't assume that you have plenty of time. Call (623) 207-1555 to talk to our Mesa personal injury lawyers now.
Settlement or Trial?
Will your case end in a settlement or trial? It can be hard to estimate at the beginning of a claim because there will be so many unknowns. As a case progresses, your attorney might be able to guess if a settlement will be more likely, but there will never be a moment when it can be promised.
At Rafi Law Group, we have legal professionals who can work in and out of the courtroom. Even though a settlement is often beneficial, we prepare for a trial, just in case. This dual approach to injury claims has been instrumental in so many of our best and most recent successes.
Get Answers Today – Call Our Firm
You surely have questions about what to do next after being in an accident. Our Mesa personal injury attorneys have answers. We would be happy to discuss your options during a no-cost, no-obligation consultation.
---
We are available 24/7, so don't hesitate to call (623) 207-1555 right when you need us.
---