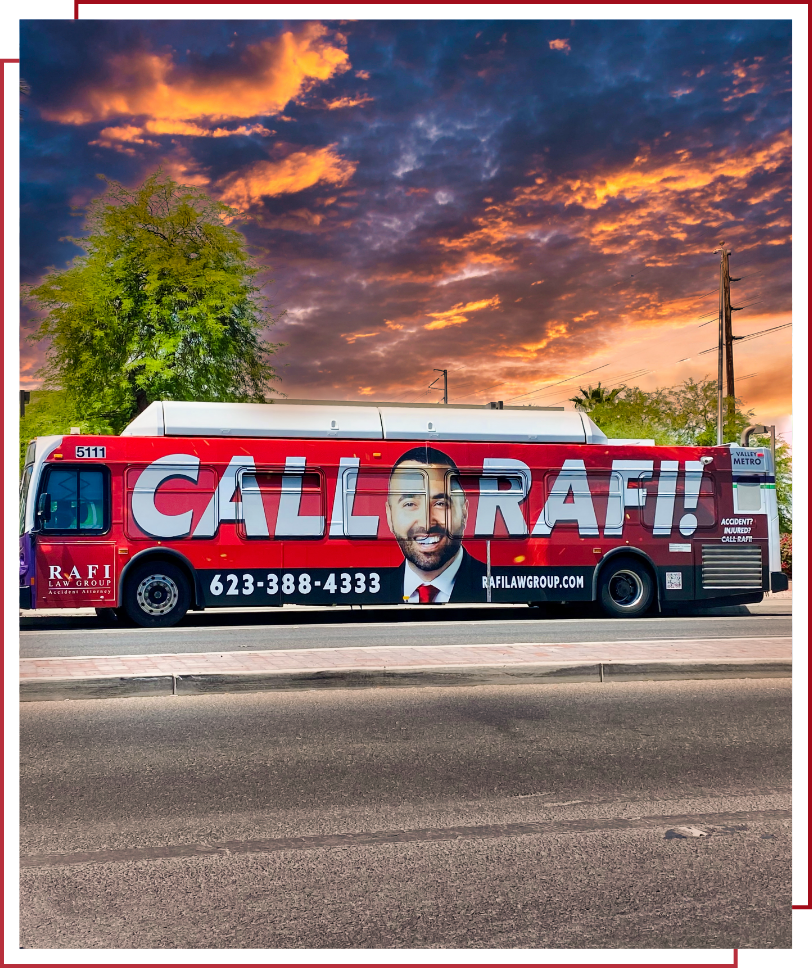 Mesa Car Accident Lawyers
Protecting Your Rights After a Crash
Car accidents happen all the time. Unfortunately, successful car accident claims don't. Many motorists who are hit by a reckless drivers never get the compensation that they need and deserve. Rafi Law Group and our Mesa car accident attorneys are here to help make sure that doesn't happen to you.
If you were hit by a negligent driver while on the streets of Mesa, Arizona, then we want to hear from you right away. We can analyze the basic details of your case during an initial consultation. Afterward, we can determine the proper way to move your claim forward.
---
Let's talk about your rights as an injured driver. Call (623) 207-1555.
---
Common Causes of Car Accidents in Mesa
Although the term 'accident' suggests a random occurrence, car accidents aren't random. They almost always happen because someone acted negligently when they should've been more careful. We can investigate the crash to determine its cause and how that places liability on the defendant.
Common causes of car accidents in Mesa include:
Texting while driving
Drunk driving
Speeding
Unsafe lane changes
Our firm can also help with single-vehicle accident claims that were caused by a third party's negligence. For example, some car accidents are caused by defective auto parts or unsafe road conditions. Let us work through your case to see who should be held liable for such accidents.
Types of Car Accident Cases We Handle
At Rafi Law Group, we are proud of the large team of legal professionals that we have assembled under one roof. Thanks to our collective experience and approach to cases, we can handle virtually any car accident case, no matter how the crash occurred or the strength of the defendant.
Our firm can work on all types of car accident cases, including those that involve:
Multi-vehicle accidents: When multiple cars are in a single wreck, figuring out liability can be difficult. Leave such a complicated case up to our legal professionals.
Head-on collisions: A head-on collision can cause catastrophic injuries in an instant. Rafi Law Group is up for the challenge of handling such high-stakes cases.
Rear-end collisions: Whiplash is a permanent or semi-permanent neck injury that is most frequently caused by rear-end collisions.
Rollover accidents: If a car rolls over, then the passengers can suffer serious injuries because most vehicles have little to no rollover protection.
Compensation for Car Accident Claimants
We don't like leaving even a dollar unclaimed when we're working on a car accident claim. Our attorneys take the time to calculate the damages owed to you, so you don't worry about not getting enough when the case is over. We also have the talents and experience required to either move your case into settlement negotiations or take the matter to court when necessary. No matter the direction, we want to secure the most compensation possible in your name.
Your car accident claim's value could be based on these losses and more:
Medical treatment costs
Lost wages
Pain and suffering
Miscellaneous economic damages
We Provide Caring Counsel – Call Now
Help is here if you have been in a crash and want to start a claim. Call our Mesa car accident lawyers at (623) 207-1555 whenever you are free. We keep the phone line open 24/7 because car accidents don't wait for the next business day.
---
Click here to start with a free consultation.
---