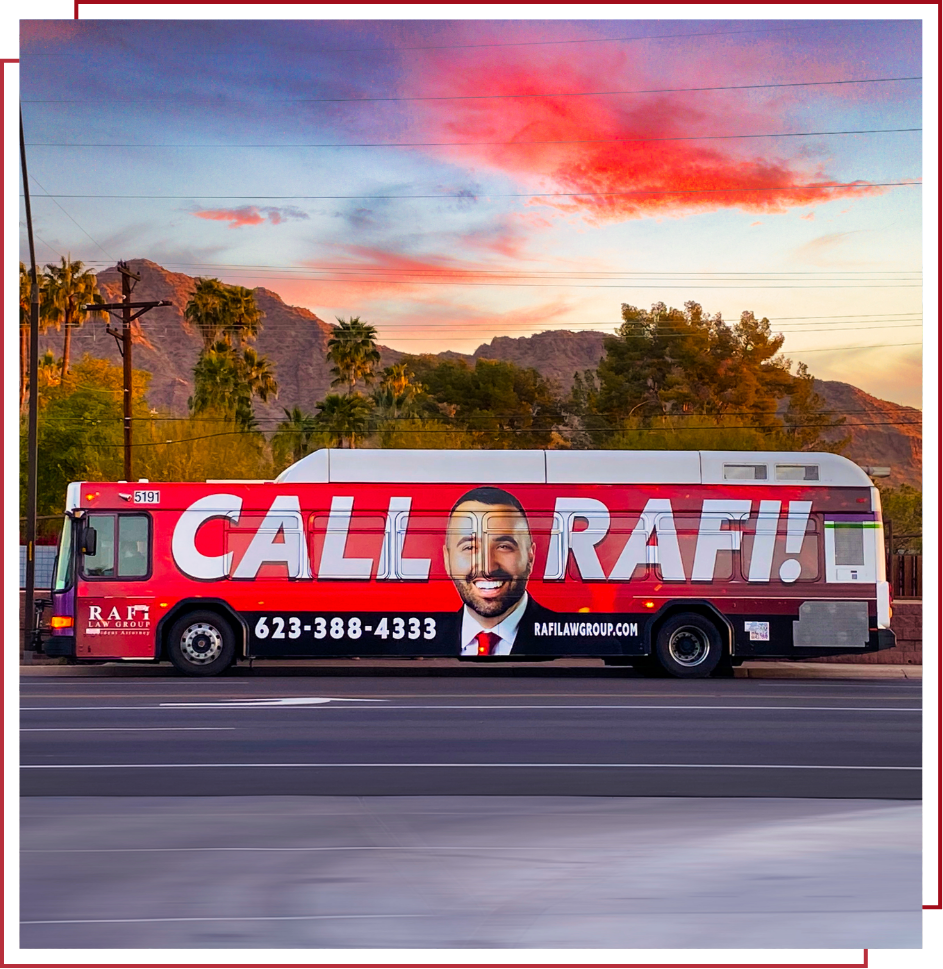 Arizona Catastrophic Injury Attorneys
Fight for Compensation for a Life-Changing Injury
At Rafi Law Group, PLLC, we understand that life-changing injuries are devastating, and the aftermath of a serious accident caused by someone else's mistakes can leave you feeling helpless and overwhelmed. Our team of experienced Arizona catastrophic injury lawyers is here to help you navigate the legal process, file a claim, and fight to turn your life around for the better after a catastrophic injury threatened your well-being and livelihood. We are dedicated to fighting for the rights of our clients and providing them with the support they need during this difficult time.
---
Call an Arizona catastrophic injury attorney today. Dial (623) 207-1555.
---
Types of Catastrophic Injury Claims We Handle
Catastrophic injuries are severe and life-changing injuries that can have a significant impact on a person's physical, emotional, and financial well-being. They often require ongoing medical care and rehabilitation, which can result in significant expenses. Our attorneys know how to investigate and handle catastrophic injury claims of all types, so you don't have to worry about finding a law firm that can work on your case.
Common types of catastrophic injuries include:
Traumatic brain injuries (TBI): This type of injury occurs when there is a sudden impact to the head, causing damage to the brain. TBI can result in long-term cognitive, behavioral, and physical impairments.
Spinal cord injuries: These occur when there is damage to the spinal cord or nerves at the end of the spinal canal. Spinal cord injuries can cause paralysis, loss of sensation, and other serious health issues.
Burn injuries: Burns can be caused by fire, chemicals, electricity, or radiation. They can result in scarring, disfigurement, nerve damage, and other complications.
Amputations: An amputation is the removal of a limb or body part due to injury or disease. This type of injury can lead to significant physical limitations and emotional distress.
Organ damage: Damage to internal organs such as the heart, lungs, liver, or kidneys can be life-threatening and require extensive medical treatment.
Multiple fractures: Catastrophic accidents often involve multiple fractures which may require surgical intervention for repair, rather than just a sling and rest.
Value of a Catastrophic Injury Claim
The value of a catastrophic injury claim is often significantly higher than that of a typical personal injury claim due to the severity and long-term impact of the injuries sustained. Catastrophic injuries can result in permanent disabilities, chronic pain, and emotional trauma, which can affect a person's ability to work and enjoy life.
As a result, catastrophic injury survivors may require ongoing medical treatment and rehabilitation, assistive devices such as wheelchairs or prosthetics, modifications to their homes or vehicles, and other costly accommodations. These expenses can add up quickly and continue for years or even decades after the initial injury.
In addition to economic damages such as medical bills and lost wages, catastrophic injury claims may also seek compensation for non-economic damages such as pain and suffering, loss of enjoyment of life, emotional distress, disfigurement, and loss of consortium.
Should You Hire a Catastrophic Injury Lawyer?
Because the stakes are so high in catastrophic injury cases, insurance companies and defendants will often fight harder to avoid paying out large settlements or verdicts. To stop your case and rights from being trampled by the defense, you should team up with one of our Arizona catastrophic injury lawyers. We are here to stand up for you and advance your case on your behalf.
A few of the ways that we can help you as our catastrophic injury client are:
Investigate the circumstances surrounding the injury and gather evidence to support the case.
Work with medical experts to assess the extent of the injuries and their long-term impact on your life.
Calculate the economic and non-economic damages resulting from the injury, including medical bills, lost wages, pain and suffering, and emotional distress.
Negotiate with insurance companies, defendants, and their attorneys to secure a fair settlement or verdict.
Represent you in court if a trial is necessary to obtain compensation.
Help you navigate complex legal procedures and deadlines.
Advocate for your rights throughout all stages of the legal process.
Provide emotional support and guidance.

"I was very pleased with their work, they were very helpful and supportive, would absolutely recommend it. They kept me updated on every single detail of my case and were very informative."

- Kaitlin G.

"The Staff here are very understanding and ready to help! Everything was explained to me in detail and they made sure I understood. I have the utmost appreciation and respect for Rafi Law Group!"

- Priscilla A.

"They offer speedy service and are very friendly. They keep you updated through every step of your case. If you need a Law Group that will work hard for you, choose Rafi Law Group because they get the job done."

- Jennifer C.

"I was unsure about my accident and didn't know if I would get compensated for my injuries. The team at Rafi gave me peace of mind. Shout out to Daniel, Jaimie, Jessica and anyone else I forgot that helped along the process. Professional and courteous"

- Suriya S.

"Great people, fantastic service, very streamlined. After my accident, they were there to help me and I could not be happier with their performance."

- Jared H.
Request a Consultation – Call Now
At Rafi Law Group in Arizona, we understand the devastating impact that catastrophic injuries can have on individuals and their families. That's why our team of experienced attorneys provides compassionate, personalized legal representation to help you obtain the compensation you need and deserve. With extensive experience handling complex cases involving severe injuries, we have the knowledge, resources, and determination to fight for your rights throughout every stage of the legal process.
---
If you or a loved one has suffered a catastrophic injury in Arizona, don't wait – contact us today for a free consultation.
---