Arizona Truck Accident Lawyer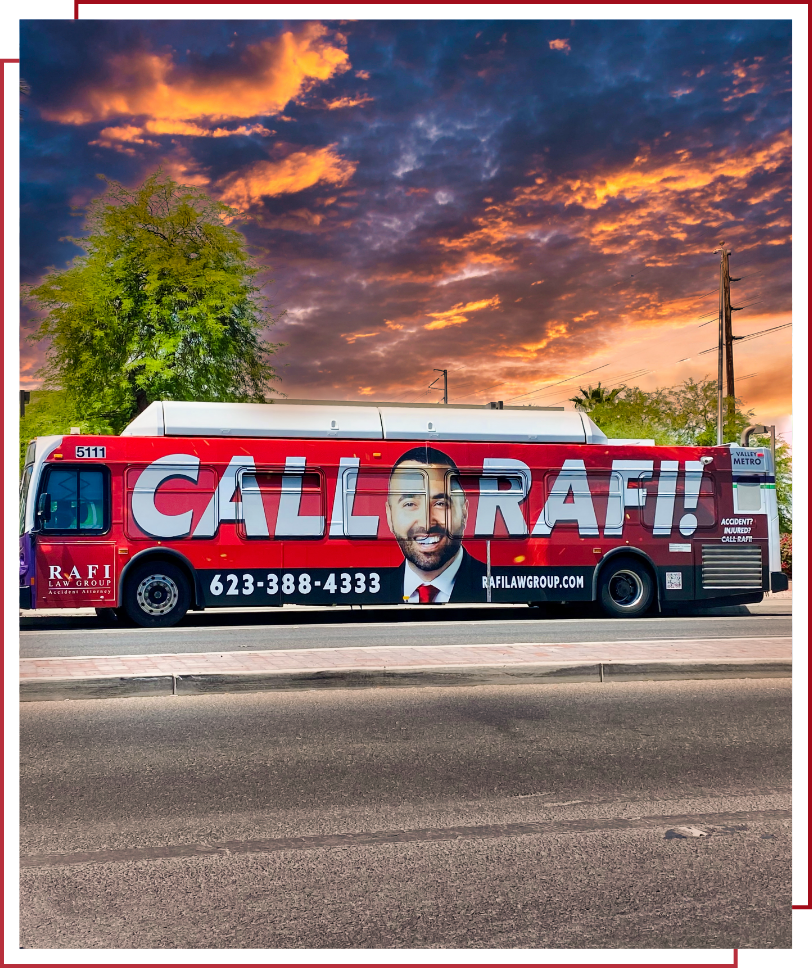 Arizona Truck Accident Attorneys
Recover the Damages You Deserve with Our Help
Serious truck accidents on the highways of Arizona call for serious legal counsel. At Rafi Law Group, we proudly answer that call. Our Arizona truck accident lawyers represent drivers throughout the state after they have been hit by a commercial truck, big rig, or semi-truck.
In a truck accident case, you can expect a lot of back-and-forth with the trucking company and their insurer. If you let us represent you throughout your case, you can leave all interactions with the opposition up to us. Not only does this ensure that you don't inadvertently say the wrong thing and harm your case, but it also lets you focus on resting and recuperating, just as you deserve.
---
Dial (623) 207-1555 and speak with our Arizona truck accident lawyers now.
---
Causes of Truck Accidents in Arizona
Fighting a trucking company in and out of court is probably not exactly what you want to do with your time, especially when you're recovering from a serious injury. Yet that is likely what will happen after you've been in a crash with a commercial truck. The defendant will try to put the blame on you and say that you made a mistake that caused it.
Allow our Arizona truck accident attorneys to work on your case, so we can find and use evidence that proves you didn't cause the wreck. Our goal is to keep your liability as low as possible, so you can demand as much compensation as possible.
Common causes of truck accidents include:
Truck driver exhaustion
Drunk or impaired driving
Speeding
Unsafe lane changes
Overloaded trailers
Truck part defects
FMCSA Regulation Violations
The Federal Motor Carrier Safety Administration (FMCSA) is a federal agency that sets rules for commercial vehicles and trucking companies to follow. Each rule is designed to keep the roads safe for truck drivers and other motorists who share the road with them. As such, if an FMCSA rule or regulation is violated by a truck driver or their employer, then it inherently makes the roads more dangerous. If we can prove that your truck accident case involves an FMCSA regulation violation, then it could be the tipping point in your claim that solidly places liability on the defendant.
Important FMCSA regulations include:
Limits to how long a truck driver can work in a single shift.
Limits to truck weight, including weight placed on each axle.
Limits to truck speed on and off the highway.
Injuries Suffered in Truck Accidents
Truck accident claims often involve catastrophic injuries because the impacts in these types of collisions are so devastating. Our firm is highly familiar with serious injury claims and the consequences of such injuries. We can work with medical experts to get a full understanding of your injury and how it will affect your life for years to come, or perhaps permanently.
Severe injuries that are often associated with truck accident claims include:
Back injuries
Head injuries
Traumatic brain injuries (TBIs)
Broken bones
Neck injuries
Permanent disfigurements
Start with a Free Consultation – Call Now
Want to know more about how to start a truck accident claim in Arizona? Call (623) 207-1555 and request a no-cost, no-obligation consultation with Rafi Law Group. The first step to a fair recovery could be just one phone call away!

"I was very pleased with their work, they were very helpful and supportive, would absolutely recommend it. They kept me updated on every single detail of my case and were very informative."

- Kaitlin G.

"The Staff here are very understanding and ready to help! Everything was explained to me in detail and they made sure I understood. I have the utmost appreciation and respect for Rafi Law Group!"

- Priscilla A.

"They offer speedy service and are very friendly. They keep you updated through every step of your case. If you need a Law Group that will work hard for you, choose Rafi Law Group because they get the job done."

- Jennifer C.

"I was unsure about my accident and didn't know if I would get compensated for my injuries. The team at Rafi gave me peace of mind. Shout out to Daniel, Jaimie, Jessica and anyone else I forgot that helped along the process. Professional and courteous"

- Suriya S.

"Great people, fantastic service, very streamlined. After my accident, they were there to help me and I could not be happier with their performance."

- Jared H.
How Much Does Hiring an Arizona Truck Accident Lawyer Cost?
Hiring an Arizona truck accident attorney from Rafi Law Group is highly affordable for everyone. We use contingency fee agreements for truck accident cases, which means you don't have to pay any attorney fees unless your case ends in your favor. Yes, that's right, you won't have to pay our attorney fees unless we secure a positive settlement or award in your name.
Furthermore, the contingency fee is equal to a percentage of any winnings we secure for you. This payment system ensures that our fees are never more than you can afford, so your financial risk is completely minimized when you choose to work with us.