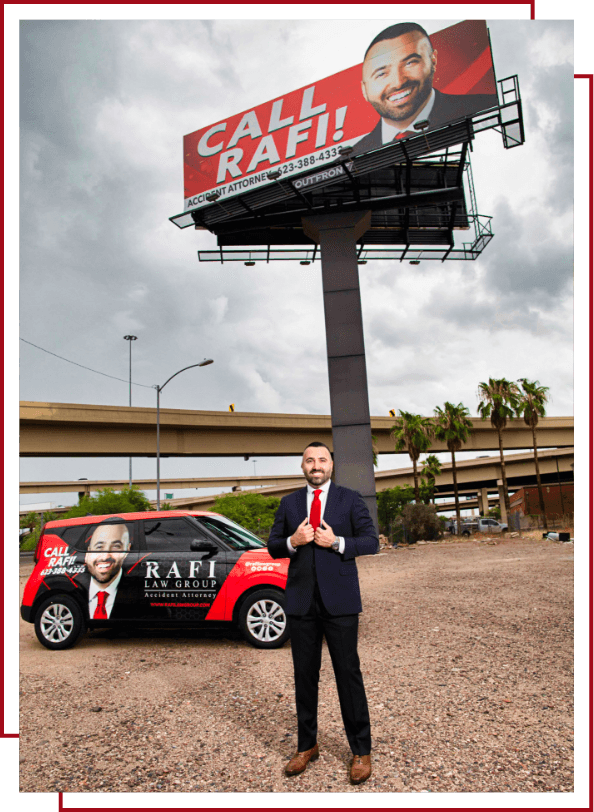 Avondale Personal Injury Lawyers
Injury Claims Handled by Legal Professionals
Have you been seriously injured in an accident? You might have the option to file an injury claim in pursuit of justice and compensation. The path ahead could be rocky, though, if the defendant wants to deny liability and make things difficult for you.
Rafi Law Group in Avondale can help you understand your options with no added stress. Our legal team is here to assist with every step of your personal injury claim, from initial investigations to courtroom litigation. We can take on any case, including those that are filed against major corporations and nationwide insurance companies.
---
Call our Avondale personal injury attorneys at (623) 207-1555 now.
---
Types of Personal Injury Claims
At Rafi Law Group, we can handle all sorts of personal injury claims thanks to our extensive experience and resources. You don't need to worry about the details of your case or the type of accident that you were in. Leave it up to us and focus on taking care of yourself.
Different types of personal injury claims that we can handle include the following and more:
Car accidents: Auto accidents are one of the most common reasons why people come to Rafi Law Group in Avondale for legal help. If you were in a crash, then come to us for compassionate counsel.
Truck accidents: Our law firm has the resources needed to fight trucking companies in truck accident claims, which often involve catastrophic injuries suffered by the claimant who was in a smaller vehicle.
Motorcycle accidents: We are proud to represent injured motorcyclists in our community. Far too often, insurance companies try to blame riders by default and wrongfully label them as "reckless."
Premises liability: In cases involving an injury on someone else's property, a premises liability claim could be warranted, such as a slip-and-fall accident case, dog bite case, negligent security case, etc.
Wrongful death: If you lost a loved one in a fatal accident, then Rafi Law Group would be honored to represent you and your family during the wrongful death claim that follows.
The common thread in all the cases that we take is a catastrophic injury. Our firm focuses on cases for people who suffered life-changing injuries because they need the help of our legal professionals the most.
Compensation for Personal Injury Claimants
The money owed to you by the defendant could be significant if you suffered a life-changing injury. How to get that money is a difficult question. Indeed, just knowing how much compensation you can demand can be a challenge if you try to handle the claim on your own.
Let our Avondale personal injury lawyers represent you throughout the entire claim process. We can figure out the right amount of compensation and fight for every penny.
Compensation in a personal injury claim usually takes two forms:
Special: Special damages are related to financial losses that have happened or will in the future. Lost wages and medical bills are two of the most common forms of special damages in personal injury claims.
General: General damages are related to non-economic losses that were still significantly harmful to the claimant. Pain and suffering are the two most common examples of general damage.
Statute of Limitations for Personal Injury Claims
Arizona has a two-year statute of limitations for most personal injury claims. If you don't file a claim within two years of the date of the accident, then you won't have the option after. The statute of limitations can be shorter, though, for specific types of cases. It is safer to assume you don't have too much time to take legal action, so reach out to an attorney as soon as possible.
Free Consultations are Available 24/7 – Call Now
Talk to an Avondale personal injury lawyer from Rafi Law Group about your claim today. We are available 24/7 for client emergencies because we know accidents can happen at any time. Every client is eligible for a free initial consultation, too, so you don't have to reach for your wallet just to find out if you could have a valid injury claim.
---
Want to know more? Call (623) 207-1555 now.
---
Avondale Personal Injury Claim FAQ
Call
(623) 207-1555

to Learn More
What is a demand letter?

A demand letter or a demand for settlement is a letter that a personal injury attorney sends to the defendant before an injury claim officially begins. It acts as a chance for the defendant to settle the matter immediately by agreeing to pay the plaintiff's demands without the need to file a claim or prepare for litigation.

Should I take a settlement offer from the insurance company?

If you are given a settlement offer before you even negotiated with the defendant and their insurance company, you shouldn't accept it immediately. Instead, bring the letter to your attorney, who can review it for discrepancies. Keep in mind that once you sign a settlement, the claim is finished and finalized with no chance to get a better offer.

Will my personal injury case go to trial?

Not all personal injury cases go to trial. There is no way to 100% know what case is destined for trial, either. However, with a professional attorney handling your case, the chances of going to court can decrease because the lawyer will know how to carefully negotiate for a settlement.