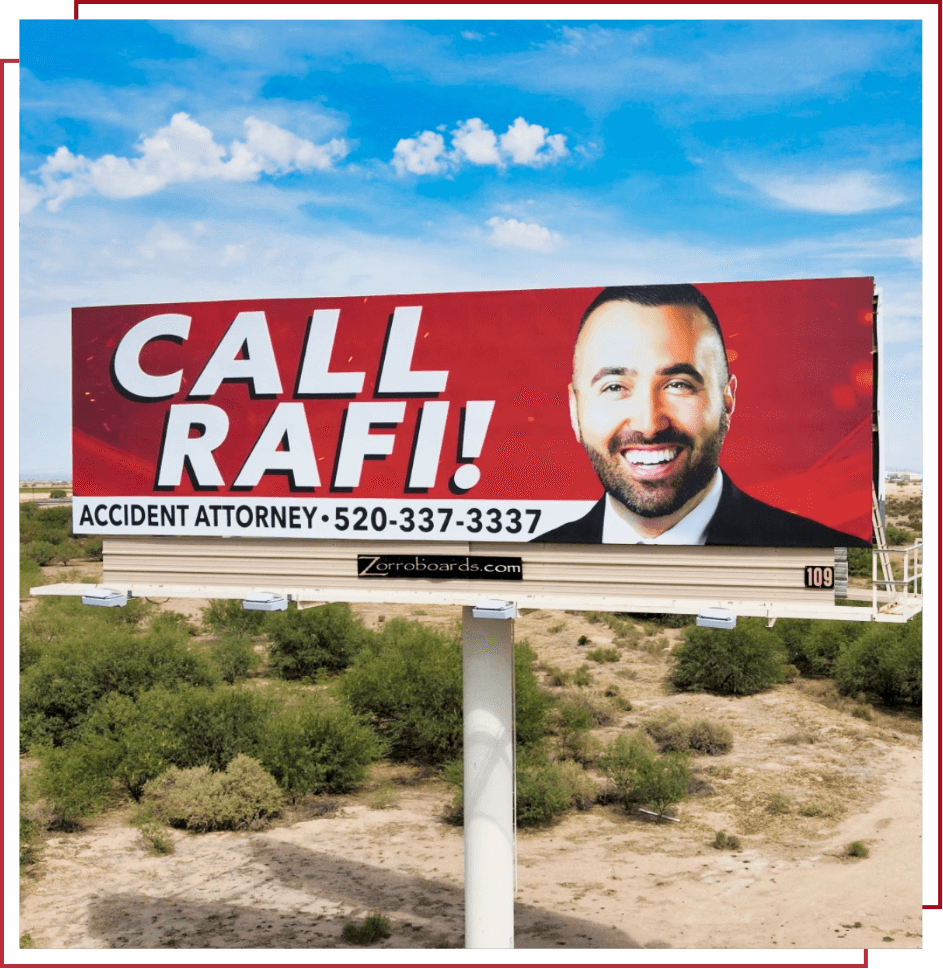 Tucson Personal Injury Attorneys
Helping You File an Injury Claim
Rafi Law Group should be the first name you call for legal help after an accident in Tucson, AZ. Why? Our attorneys have decades of collective practice experience, a history of impressive case results, and a "never back down" reputation among our peers and legal rivals like defense counselors. In other words, when you work with our firm, you will be placing your case in the hands of legal professionals who are ready for anything. We take the case close to heart because that's what we would expect if we needed to hire an injury attorney.
---
Call (623) 207-1555. Free consultations are available 24/7.
---
Types of Personal Injury Cases
At Rafi Law Group in Tucson, we want our clients to feel as comfortable as possible when they come to our firm for legal help. That's one of the reasons why we have taken the time to become familiar with a wide variety of case types. You can rest a little easier in knowing that our team will be prepared to help you, no matter what happened and how that resulted in you suffering a serious or life-changing injury.
We can handle a variety of injury claims, such as:
Car accidents: Leave your auto accident claim and related bodily injury claim up to our team, so you don't have to deal with stubborn auto insurance companies.
Catastrophic injuries: Our firm focuses on catastrophic injury cases that are often hard-fought by the defendants.
Motorcycle accidents: In a wreck while riding? Tell our attorneys. We proudly represent injured riders in the Tucson community.
Premises liability: Accidents that happen on someone else's property and due to a defect on that property can call for a premises liability claim.
Truck accidents: A truck accident can pit you against a trucking company and its defense attorneys. Make sure you're ready for the challenge by hiring our firm.
Wrongful death: Allow us to make headway in a wrongful death claim for you, so you can grieve and take care of your family.
Compensation Owed to Injury Plaintiffs
You could be left in a difficult financial situation after an accident that wasn't your fault. Bills and costs can start piling up before you know it. To get yourself on stable financial ground again, you should consider filing an injury claim as soon as possible.
Your Tucson personal injury claim could secure these damages:
Special: Costs related to tangible losses are called special damages, which can include lost wages, medical bills, future medical expenses, and so on.
General: Costs related to intangible losses are called general damages, which can include pain, suffering, lessened enjoyment of life, and so on.
Our goal as your chosen attorneys will be to make sure that you get the full amount of compensation owed to you, no matter how much that might be. We are a team that knows how to carefully tally losses, calculate damages, and send convincing demand letters to liable parties.
Will My Personal Injury Case Go to Trial?
A personal injury case can be resolved in your favor in one of two ways, typically. The first is a settlement that is negotiated with the help of your attorney. The second is a trial that ends with a positive award to be paid to you by the defendant.
Statistically, most successful personal injury claims end in a settlement. However, some will go to court for litigation, also called going to trial. At Rafi Law Group, we have talented Tucson injury attorneys who know how to handle both settlements and trials, so you can be confident that the team in charge of your personal injury case can protect your best interests.
Arizona Statute of Limitations for Personal Injury Cases
In Arizona, most personal injury cases are held to a two-year statute of limitations that begins on the date of the accident or injury. If no claim is filed within that two-year period, then the court will bar any case filed after. Two years can go by quickly when you are dealing with the aftermath of an injury and insurance complications, so please don't hesitate to reach out to us.
Build a Strong Case – Call Our Law Firm
We would be happy to set up a convenient free consultation with you to discuss the details of your case.
---
To work with a Tucson personal injury attorney from Rafi Law Group, dial (623) 207-1555.
---