Arizona Motorcycle Accident Lawyer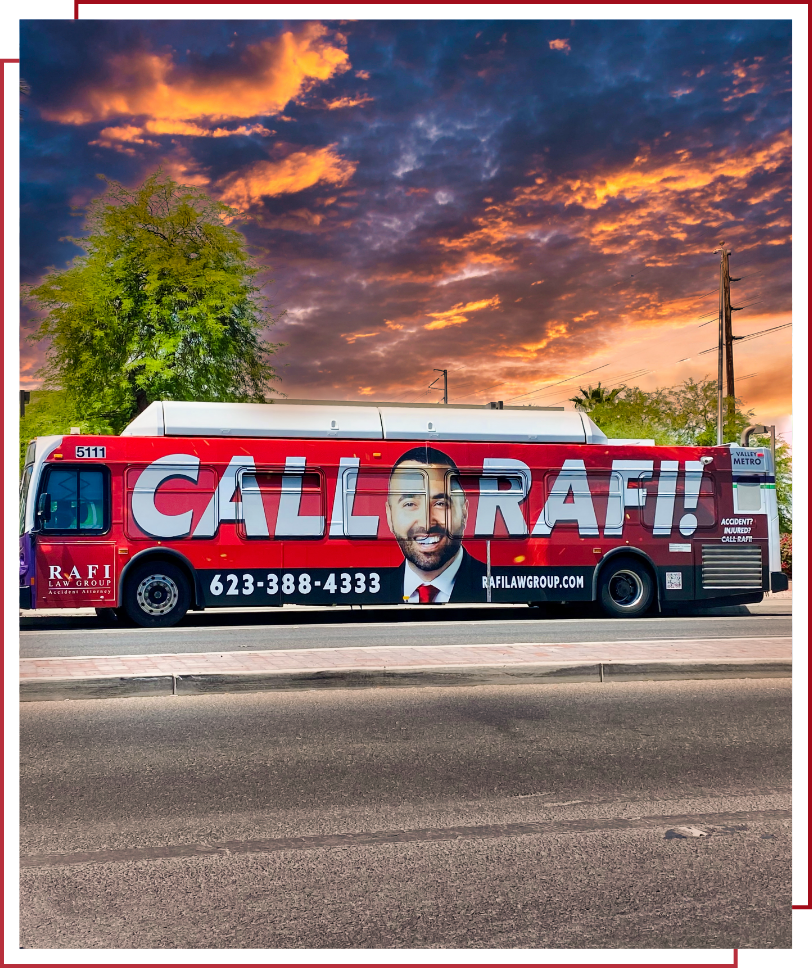 Arizona Motorcycle Accident Attorneys
Proudly Representing Injured Riders
At Rafi Law Group, we understand the unique challenges that injured motorcycle riders face after an accident. Insurance companies and drivers are often all too eager to blame the motorcyclist for everything, even when there is nothing to indicate that they did something wrong. We won't stand for such unfair oversights and assumptions, but we do stand up for our clients!
Our team of experienced Arizona motorcycle accident attorneys is dedicated to helping you obtain the compensation you deserve for your injuries, lost wages, and pain and suffering. We are committed to providing compassionate and personalized legal representation to every client we serve. If you or a loved one has been injured in a motorcycle accident, we are here to help.
---
Dial (623) 207-1555 to speak with a lawyer now.
---
Common Causes of Motorcycle Accidents in Arizona
If you were riding a motorcycle and were hit by another vehicle, it is important to know that the fault may not be with you. In fact, many motorcycle accidents in Arizona are caused by other drivers on the road who fail to take proper precautions around motorcycles.
Three of the most common causes of motorcycle accidents in Arizona:
Distracted driving: Drivers who are texting, eating, or otherwise distracted while behind the wheel may not see a motorcycle until it is too late to avoid a collision. Distracted driving is especially dangerous at intersections.
Failure to yield: Many car and truck drivers fail to yield the right of way to motorcycles when turning or changing lanes. The problem can be that they look at the motorcycle in mirrors and blind spots but don't "see" it because the motorcycle is smaller than the average vehicle. They have trained their eyes to only notice vehicles with two headlights, four wheels, and a windshield.
Following too closely: When drivers follow motorcycles too closely, they put themselves and the motorcyclist at risk. If a motorcycle must stop suddenly, there may not be enough time for a driver following too closely to react in time, especially when considering that cars take much more road to come to a complete stop than a lighter motorcycle.
How to Prove Liability in a Motorcycle Accident
Proving liability in a motorcycle accident can be a complex process, but it is essential if you want to pursue compensation for your injuries and damages. Our Arizona motorcycle accident lawyers at Rafi Law Group can thoroughly investigate the circumstances surrounding your accident to determine who was at fault. This may involve gathering evidence such as witness statements, police reports, and video footage of the accident. We may also work with accident reconstruction experts to help us understand how the accident happened.
Steps that can help establish fault and prove liability can include:
Gather evidence: Collect as much information about the accident as possible, including witness statements, police reports, and photos of the scene.
Document injuries: Keep detailed records of any injuries sustained in the motorcycle accident, including medical bills, doctor's notes, and receipts for medication.
Hire an attorney: A skilled motorcycle accident attorney can conduct an investigation and gather evidence to support your claim.
See a doctor: You should go to the doctor after a motorcycle accident, even if you feel fine. The doctor can check for injuries and update your medical record, which helps validate the extent and cause of your injuries.
Compensation for Motorcycle Accident Claims
You may be entitled to compensation if you were injured in a motorcycle accident in Arizona. What compensation should be paid to you by the defendant? The answer depends on the losses you have suffered due to the accident and how liability for those losses is determined.
Compensation that could be available to you:
Medical expenses: This includes the cost of medical treatment related to your injuries, including hospital bills, doctor's fees, and prescription medication.
Lost wages: If you are unable to work due to your injuries, you may be able to recover lost wages for the time.
Property damage: If your motorcycle was damaged in the accident, you may be able to recover the cost of repairs or replacement.
Pain and suffering: This type of compensation is intended to compensate you for physical pain and emotional distress caused by the accident.
Wrongful death damages: If a loved one was killed in a motorcycle accident, surviving family members may be entitled to compensation for their loss. A survival action might also be permitted under Arizona law.
Does Every Rider Need a Motorcycle Accident Lawyer?
Every motorcycle accident is serious. But is every accident serious enough to require the help of a professional motorcycle accident lawyer?
Typically, you should hire an Arizona motorcycle accident lawyer if:
Your injuries are serious: If you have suffered serious injuries in the accident, such as broken bones or head trauma, you may require extensive medical treatment and ongoing care. An attorney can help you fight for the compensation needed to cover these expenses.
Liability is disputed: If there is disagreement about who was at fault for the accident, an attorney can investigate the incident and gather evidence to prove liability.
Insurance company denies your claim: If the insurance company refuses to pay your claim or offers a settlement that does not fully compensate you for your losses, an attorney can negotiate on your behalf or take legal action.
A motorcycle accident lawyer can be extremely helpful in many different situations, though. If you're not sure if you need a lawyer or just have questions, then you shouldn't hesitate to dial (623) 207-1555 and connect with Rafi Law Group in Arizona.

"I was very pleased with their work, they were very helpful and supportive, would absolutely recommend it. They kept me updated on every single detail of my case and were very informative."

- Kaitlin G.

"The Staff here are very understanding and ready to help! Everything was explained to me in detail and they made sure I understood. I have the utmost appreciation and respect for Rafi Law Group!"

- Priscilla A.

"They offer speedy service and are very friendly. They keep you updated through every step of your case. If you need a Law Group that will work hard for you, choose Rafi Law Group because they get the job done."

- Jennifer C.

"I was unsure about my accident and didn't know if I would get compensated for my injuries. The team at Rafi gave me peace of mind. Shout out to Daniel, Jaimie, Jessica and anyone else I forgot that helped along the process. Professional and courteous"

- Suriya S.

"Great people, fantastic service, very streamlined. After my accident, they were there to help me and I could not be happier with their performance."

- Jared H.
Have Questions? Get Answers Today
If you have been injured in a motorcycle accident in Arizona, the attorneys at Rafi Law Group are here to help however we can. We do our best to keep everything simple for you because you've already dealt with enough!
---
Contact us today for a free consultation and let us help you get back on the road to recovery.
---