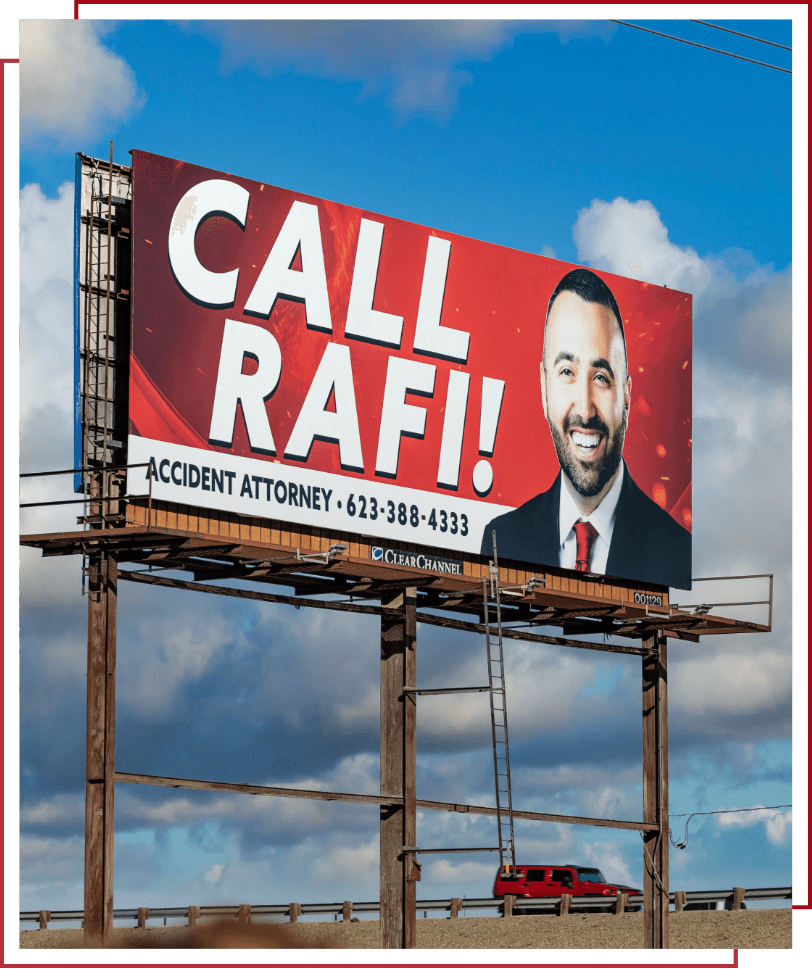 Arizona Dog Bite Attorneys
Dog Bite Claims & Lawsuits
When a dog is poorly trained or is allowed to act aggressively or unpredictably, it can attack or bite others, sometimes without warning. If you have suffered a dog bite injury in Arizona, you have rights to use and protect. At Rafi Law Group, PLLC, our Arizona dog bite lawyers are committed to helping you seek the justice they deserve after you were traumatized and seriously injured by an animal attack. We are skilled and passionate about dog bite cases and can fight on your behalf in pursuit of fair compensation for your losses.
---
Please call (623) 207-1555 to talk about filing a dog bite injury claim in Arizona.
---
Injuries Caused by Serious Dog Bites
Dog bites can cause a wide variety of injuries, some of which can be severe and life-threatening. These injuries can range from physical injuries such as lacerations and broken bones to infections and psychological trauma. In some cases, the injuries may require extensive medical care and long-term rehabilitation.
Some examples of injuries that can result from a dog bite include:
Lacerations and puncture wounds
Broken bones
Nerve damage
Infections such as rabies and tetanus
Scarring and disfigurement
Psychological trauma, including post-traumatic stress disorder (PTSD)
Dog bite victims can suffer from psychological trauma that can leave long-lasting mental injuries. It is common for survivors to develop a fear of dogs or experience anxiety and depression. These mental health issues may require ongoing therapy or medication to manage. If left untreated, they can severely impact a victim's quality of life, affecting their ability to work, socialize, and even perform daily activities.
What to Do After a Dog Attack
If you or someone you know has been bitten by a dog, it is crucial to take the appropriate steps to help protect your legal rights.
Essential steps to take after a dog bite or dog attack include:
Seek medical attention immediately: If the injuries are severe, call 911 or go to the nearest emergency room at once. Even if the injuries seem minor, it is important to get checked by a medical professional to avoid potential infections, so an urgent care visit should be arranged within the next few hours.
Identify the dog and its owner: If possible, obtain the name and contact information of the dog owner. You may also want to get the name and contact information of any witnesses to the incident.
Report the dog bite: Contact your local animal control authority or law enforcement agency to report the incident. They will investigate the incident and can gather evidence for your case.
Document the injuries: Take photos of the injuries and keep a record of all medical treatment received following the attack.
Consult with an experienced dog bite attorney: An experienced Arizona dog bite attorney can help you seek compensation for damages including medical expenses, lost wages, and pain and suffering. Dog bite cases can be complicated, and it is essential to have a lawyer on your side to protect your legal rights and help you demand the compensation you deserve.
Arizona Strict Liability for Dog Bite Cases
In Arizona, strict liability applies to dog bite cases, meaning that regardless of the owner's negligence or knowledge of a dog's viciousness, the owner is still responsible for any injuries caused by their dog. This rule applies when a dog bite occurs either in a public place or when the victim is lawfully on private property. The strict liability rule is often seen as the opposite of the "one-bite" rule, which can excuse liability for some damages if the dog has never shown aggression before.
However, in a dog bite case, the injured person must not have provoked or harmed the dog intentionally or been trespassing on private property. If such circumstances did exist, then liability for their losses could be reduced or complicated.
---
If you or a loved one has been bitten by a dog in Arizona, do not hesitate to contact us for a free consultation.
---

"I was very pleased with their work, they were very helpful and supportive, would absolutely recommend it. They kept me updated on every single detail of my case and were very informative."

- Kaitlin G.

"The Staff here are very understanding and ready to help! Everything was explained to me in detail and they made sure I understood. I have the utmost appreciation and respect for Rafi Law Group!"

- Priscilla A.

"They offer speedy service and are very friendly. They keep you updated through every step of your case. If you need a Law Group that will work hard for you, choose Rafi Law Group because they get the job done."

- Jennifer C.

"I was unsure about my accident and didn't know if I would get compensated for my injuries. The team at Rafi gave me peace of mind. Shout out to Daniel, Jaimie, Jessica and anyone else I forgot that helped along the process. Professional and courteous"

- Suriya S.

"Great people, fantastic service, very streamlined. After my accident, they were there to help me and I could not be happier with their performance."

- Jared H.
Statute of Limitations for Arizona Dog Bite Cases
Arizona has a two-year statute of limitations for personal injury claims, including dog bite cases. This means that you must file your claim within two years of the date of the injury. Hiring an experienced dog bite attorney can help ensure that you file your claim within the allotted time.
Arrange a Free Consultation – Please Call Now
At Rafi Law Group, PLLC, we understand the devastating effects a dog attack can have and are committed to helping you recover the compensation you deserve. Our experienced Arizona dog bite attorneys can fight vigorously on your behalf to demand compensation for your injuries, including medical expenses, lost wages, and pain and suffering.