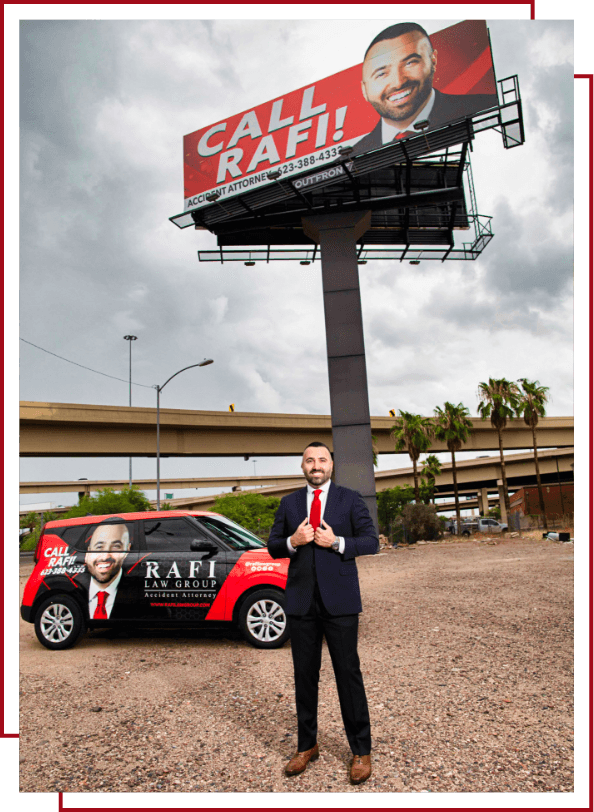 Slip & Fall Accident Attorney in Arizona
You Could Be Owed Compensation for Your Injuries
Our Arizona slip and fall accident attorneys at Rafi Law Group have helped many locals get justice and compensation after slipping and falling on someone else's property. We understand the immense physical, emotional, and financial trauma that accompanies these types of accidents, so we are committed to providing personalized, quality legal representation that helps put your worries at ease. You can rest assured knowing that we can aggressively fight to protect your rights while pursuing the most compensation available in your name.
---
Talk to our Arizona slip-and-fall accident lawyers now by dialing (623) 207-1555.
---
Property Owner Negligence That Causes Slip & Fall Accidents
Property owners have an obligation to keep their premises safe from hazards that can cause slip and fall accidents. If they fail to take the necessary precautions, visitors and guests can suffer serious injuries due to a variety of mistakes.
Common examples of property owner negligence that can cause a slip and fall accident include:
Neglecting to warn visitors about potential hazards.
Letting spills stay on slick flooring or tiles.
Inadequate lighting that limits visibility.
Not repairing broken or missing handrails near steps.
Failing to maintain the property.
And other acts of negligence or inaction.
Residential property owners and commercial property owners must both try to prevent slip and fall accidents on their properties, but the methods they use might be different. For example, a retail store owner might need to hire staff members to sweep and clean the floor regularly, especially in areas where shoppers frequent.
Injuries Suffered in Slip & Fall Accidents
Slip and fall accidents can cause a variety of injuries, ranging from minor bruises, cuts, or scrapes to more severe injuries like fractures, head trauma, or back and spinal cord injuries. Elderly people are especially vulnerable to these kinds of accidents since they tend to be at a greater risk of bone fractures. Do not be convinced by the defendant that your injuries "can't be serious" because you "only slipped and fell." See a medical professional for a diagnosis as soon as you can, which can help build your claim later.
Our attorneys can help people who have suffered serious injuries, such as:
Traumatic brain injuries (TBIs)
Spinal cord damage or paralysis
Joint injuries
Neck injuries
Compensation in a Slip & Fall Accident Claim
If you have been injured in a slip and fall accident in Arizona, you may be eligible for compensation. Depending on the severity of your injury and the specific situation, you could be compensated for medical expenses, lost wages, pain and suffering, emotional distress, or the loss of a loved one who was fatally injured. You may also be entitled to punitive damages if the property owner was found to have acted with gross negligence, too, but such damages are rare.
Call our Arizona Slip & Fall Accident Lawyers Now
If you have been injured in a slip and fall accident, Rafi Law Group can help. At our firm, we understand the legalities associated with these kinds of cases and are committed to helping victims seek justice and fair compensation for their injuries. With years of experience helping clients with serious injuries, we strive to deliver the highest quality representation every step of the way.
---
Contact us today to request a free initial consultation about your case. We're available 24/7/365.
---

"I was very pleased with their work, they were very helpful and supportive, would absolutely recommend it. They kept me updated on every single detail of my case and were very informative."

- Kaitlin G.

"The Staff here are very understanding and ready to help! Everything was explained to me in detail and they made sure I understood. I have the utmost appreciation and respect for Rafi Law Group!"

- Priscilla A.

"They offer speedy service and are very friendly. They keep you updated through every step of your case. If you need a Law Group that will work hard for you, choose Rafi Law Group because they get the job done."

- Jennifer C.

"I was unsure about my accident and didn't know if I would get compensated for my injuries. The team at Rafi gave me peace of mind. Shout out to Daniel, Jaimie, Jessica and anyone else I forgot that helped along the process. Professional and courteous"

- Suriya S.

"Great people, fantastic service, very streamlined. After my accident, they were there to help me and I could not be happier with their performance."

- Jared H.
Who is typically liable for a slip and fall accident?
The property owner or occupier usually is responsible for taking "reasonable care" to ensure that their premises are safe and free from hazards.
Can I file a slip and fall claim even if I was partially at fault?
Yes, you may still be able to recover damages if you were partially at fault in Arizona due to the state's comparative fault doctrine.
How long do I have to file a slip and fall claim?
In general, you must seek compensation within two years of the slip and fall accident in Arizona. If your claim involves a government entity, however, you may have much less time to bring your case forward.