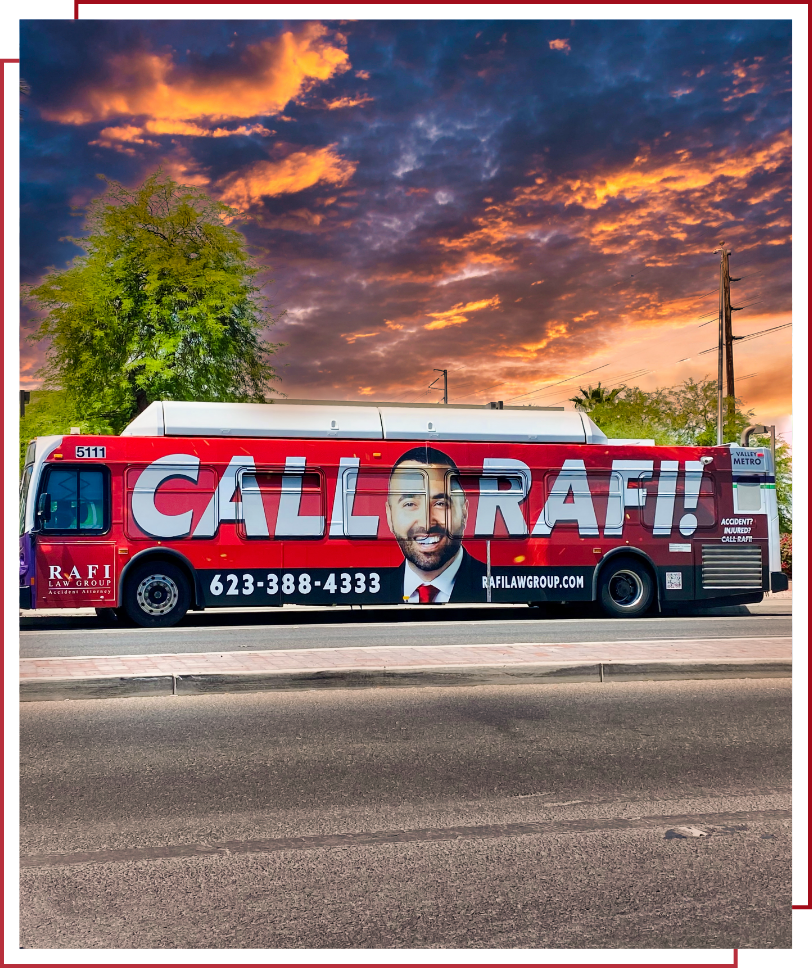 Truck Accident Attorney in Phoenix
We've Recovered Millions for Our Clients
Whether you've been involved in a big rig or a large or small truck accident that has caused significant injury to you or a loved one, our Phoenix truck accident lawyer work hard to prove the at-fault party's responsibility. We serve as your advisers and liaisons between party representatives and insurance companies.
From our offices in Phoenix, Arizona, Rafi Law Group helps you secure the compensation you need and works to ensure the process is as smooth and hassle-free as possible.
Trucking Laws and Regulations
Given their great size and weight, trucks are capable of causing catastrophic damage to other motorists in the event of an accident. There are many reasons truck accidents occur but one of the most common ones is fatigued driving. Whether through their own negligence or out of pressure from the trucking companies they work for, truckers were often overworked and under-rested resulting in truckers falling asleep at the wheel or driving negligently. In order to combat this issue, and lower the number of truck accidents on the road policy makers enacted the hours of service regulation. The main purpose of this rule is to prevent fatigued driving and ensure that truck drivers are not overworked and get an adequate amount of sleep and rest each day. According to this law:
Truck drivers can work a maximum of 14-hour workdays
Truckers must take rest or meal breaks equaling 3 of those 14 hours
Truck drivers must rest for at least 10 consecutive hours before beginning a new workday
Truck drivers are required to take days off work at regular intervals
Unfortunately, these rules are not always followed. An experienced attorney from our firm can conduct a thorough truck accident investigation to learn more about the cause of your accident.
Truck Accidents Are Unfortunately Common
This year, more than 5% of vehicles on the road are trucks. In metropolitan or major cities, this number can be even greater.
Not only does this mean an increased risk to the average driver, but an increased need to deal with corporate organizations instead of private parties, when accidents occur. For an individual, this can be a daunting task. Our Phoenix truck accident lawyer serve as your personal representatives and represents your case in situations where big rigs, small trucks or large trucks have caused injury.
What Should I Do After an Accident?
No matter the cause, a truck accident can lead to serious injuries. These may include whiplash, lacerations, broken bones, internal hemorrhaging, brain injuries, paralysis, and spinal cord injuries. If you are involved in an accident, there are several steps you need to take. By doing these things, you can increase your safety and start building your case for seeking compensation later on.
Check Yourself and Others for Injuries
The first thing to do after you are involved in a crash is to check yourself and your passengers for injuries. If you are injured, stay where you are and do not try to move. It is best to wait for medical professionals to move you safely out of the vehicle. This can help protect your spine and internal organs from more damage in a severe crash.
Move to Safety
If you and your passengers are not injured, and the car is blocking an intersection or causing an obstruction in the road, you should move it to a safe location. This can help prevent another accident from occurring. You can roll the car to the shoulder or into a parking lot to get it out of the way of traffic.
Call the Police
Make sure someone calls the police and tells them the location and nature of the incident. Everyone involved should wait at the scene until police arrive. If you leave, even if you provide contact information, you can be charged with a hit and run.
Once the police arrive, you may be required to file a police report of the incident. You should avoid admitting guilt, even if you think you were at fault. It is up to the court to determine fault in an accident, and an admission of guilt can hinder your ability to pursue compensation.
Seek Medical Attention
After an accident, it is important to see your doctor right away. While some victims are seriously injured and go to an emergency room for medical treatment, others might feel fine and not get medical attention. However, if you wait to see a physician, and then you try to pursue compensation for injuries that appear after the accident, the insurance company may try to say your injuries did not result from the crash.
Even if you think you are fine, it is important to see your doctor. This can help ensure you don't have any underlying tissue injuries that may not appear right away, as well as provide proof to support your claim.
Gather Evidence
If you are uninjured, the best thing you can do at the scene is gather evidence. Get the truck driver's information, the contact information of witnesses, the badge number of the responding police officer, and the license plates of everyone involved. You should also take pictures of the vehicle damage, as well as damage to your personal property items.
If possible, write down everything you can remember about the accident. This may include weather conditions, order of events, and time of day. By gathering evidence at the scene, you can start building your case. This can support your argument as you seek compensation from the insurance company.
File a Claim
After you are involved in an accident, it is important to file an insurance claim as soon as possible. The insurance adjuster will investigate the situation and determine how much you are entitled to. You should keep in regular contact with your insurance company, and provide any documentation they request throughout the process.
Hire an Experienced Truck Accident Attorney
Insurance companies will try to offer you the lowest settlement possible for your claim. Having knowledgeable legal assistance to guide you through the process can make a difference. A truck accident lawyer can work hard to make sure you get the compensation you deserve for medical bills, lost wages, pain and suffering, and other damages.
At Rafi Law Group, we fight on behalf of injured clients. If you have been injured in a trucking accident, we can investigate the incident, gather evidence, and build your case. We know you are going through a stressful situation. That is why we strive to handle the legal issues so you can focus on healing. We care about each client, and can work hard to help you pursue the financial settlement you deserve.
Free Consultations, No Down Payment Unless We Recover
When you have been seriously injured, we know that legal issues may not be your top priority. However, getting the compensation you deserve can help you when you have medical bills, everyday expenses, or when you are forced to take time off work to recover.
This is why our Phoenix personal injury attorney offers the following services:
Free initial consultations and analysis
Hours that suit your needs
A dedicated, experienced support staff
No down payment until we win your case