Sargina M. Desargones, Associate Attorney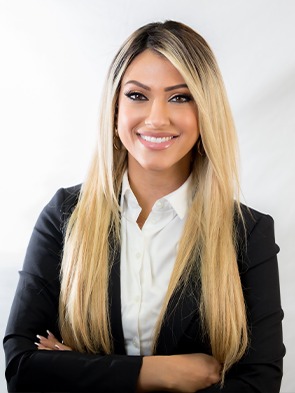 Phoenix Personal Injury Lawyer
Sargina M. Desargones is an Associate Attorney at Rafi Law Group PLLC. Sargina's strong oral advocacy skills and ability to cultivate exceptional client relationships assist her in achieving maximum results for our clients. Sargina's experience and education has developed her into a skilled and articulate lawyer who is passionate about advocating on behalf of her clients.
Sargina was born and raised in Modesto, California. Sargina earned her law degree from Sandra Day O'Connor College of Law in 2020. During her time in law school, Sargina displayed her strong oral and writing advocacy skills and took pride in being a first-generation female law student. During her second year of law school, Sargina was selected for the American Bar Association's Diversity Legal Writing Program, where she sharpened her legal writing skills and gained high-quality experience and mentorship in the Arizona legal community. Sargina participated in the Civil Litigation Clinic where she worked on pro bono cases and excelled in assisting clients in every step of the legal process. She was the Treasurer of the Trial Advocacy Student Organization and upon graduation, earned a Trial Advocacy Certificate for her concentration in litigation and trial advocacy courses. She was also on the Committee of Professional Development of the Women's Law Student Association and Director of Business Affairs of the ASU Law Diverse Students Coalition.
Prior to law school, Sargina graduated cum laude from the Weinberg College of Arts and Science from Northwestern University in Evanston, Illinois, and obtained her Bachelor of Science in Political Science. As an undergraduate student, Sargina received several academic scholarships and was selected as a member of the Alpha Sigma Lambda Honor Society. She was also the President of the SPS Student Advisory Board and participated in Mock Trial.
In her spare time, Sargina enjoys spending time with her three young nephews, reading literature, drawing portraits, and mentoring young professionals navigate through their academic careers.
Education:
J.D., Sandra Day O'Connor College of Law, Arizona State University, 2020
B.S., cum laude, Political Science, Weinberg College of Arts and Sciences, Northwestern University, 2017
Admitted to Practice:
Achievements:
Trial Advocacy Certificate, Sandra Day O'Connor College of Law, Arizona State University, 2020
CALI Excellence for The Future (Highest Grade), 14th Amendment, Fall 2019
Alpha Sigma Lambda Honor Society, Northwestern University Chapter, 2017