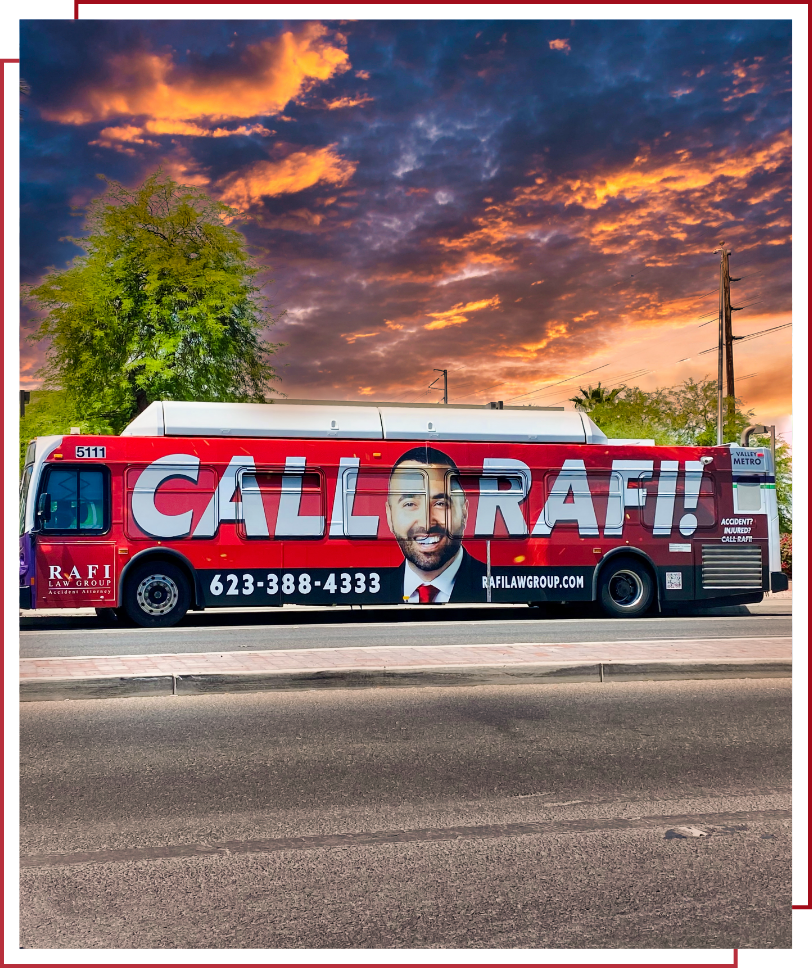 Rideshare Accident Attorneys in Phoenix
Make Sense of Your Injury Claim the Easy Way
Rideshare services are getting more popular as years pass, and rideshare accidents are also becoming more commonplace. If you have been hurt while riding in a rideshare vehicle like an Uber or Lyft, you could be facing a complicated legal situation on top of any pain and frustrations you are already feeling because of your injuries.
To figure out who is liable for your rideshare accident without putting more stress on your shoulders, count on Rafi Law Group. Our Arizona rideshare lawyers have the experience and legal insight needed to get to the bottom of your case, find evidence of liability, calculate your damages, and take on insurance companies. We can represent you if you were riding in an Uber or Lyft, acting as a rideshare driver, or hit by a rideshare vehicle while driving your own.
---
Call (623) 207-1555 today to get your case moving in the right direction.
---
On This Page
Is Uber or Lyft Liable for Your Damages?
When an employee causes someone to suffer an injury during the scope of their employment, the company employing them can be held partially or fully accountable for their mistakes. Does that mean that Uber or Lyft can be liable for your damages after being in a rideshare accident? Not necessarily.
A few circumstances to consider in a rideshare accident:
Independent contractors: Rideshare drivers who use an app like Uber or Lyft are not technically employees. They are considered independent contractors, and Uber has fought repeatedly to ensure the law sees them as such. Companies are legally distant from any harm caused by independent contractors, so they do not assume liability automatically just for "employing" your driver. In other words, Uber, Lyft, and other similar rideshare companies might not owe you any compensation after a crash is caused by a driver using their apps.
Bodily injury insurance coverage: Some rideshare companies have taken steps to set passenger worries at ease, though. Most notably, Uber has promised to cover all rides with a $1,000,000 bodily injury insurance policy. Under this policy, the hospital and medical bills incurred by an injured passenger will be covered by Uber, up to the $1,000,000 cap. Although, the policy only applies when the rideshare driver has a passenger in their vehicle and is taking them to their destination. Accidents caused by an Uber driver with no passenger are likely to receive no coverage at all from the rideshare company.
Other insurance options: In any rideshare accident, you might have to consider filing an injury claim against your own rideshare driver and/or other motorists involved in the crash. This process will be similar to what you would do in any other auto accident, but it can become inherently more complex due to the additional parties tangled up in the legal processes. It is likely that you will also need to manage multiple claims at the same time.
Does Uber or Lyft Offer Insurance Coverage for Crashes?
As mentioned, Uber and Lyft have $1,000,000 insurance policies for rideshare accidents. Getting access to that massive amount of insurance coverage is not guaranteed, though. There are actually varying tiers of coverage, so your accident with a rideshare driver might not be covered at all if you weren't their passenger.
Uber uses the following policy breakdown:
Tier 0: When an Uber driver is not using the app or has it marked as Offline, Uber provides no insurance coverage at all and takes no responsibility for the actions of that driver. Any coverage would need to be provided by the driver's personally owned policy or your own.
Tier 1: When an Uber driver is looking for a ride or is marked as Available, Uber can provide some insurance coverage, but only if the driver's personally owned auto insurance policy will not apply to the situation. In this tier, Uber can provide a 50/100/25 plan, which means it might pay up to $50,000 in bodily injury per person, $100,000 in bodily injury per accident, and $25,000 in property damage per accident.
Tier 2: When an Uber driver is marked as picking up a rider or already has a rider in their vehicle, Uber will provide the most auto insurance coverage in case of most accidents. Tier 2 coverage includes up to $1,000,000 for third-party liability, uninsured/underinsured motorist bodily injury coverage, and a contingent comprehensive and collision clause that can pay up to the actual cash value of a car with a $2,500 deductible. Lyft's main difference with its own insurance policy occurs here in Tier 2, where a different deductible amount might apply.
As your chosen Phoenix rideshare accident attorneys, we will do all we can to ensure you get as much compensation as possible, whether you were another driver or a passenger. We can interpret Uber's or Lyft's insurance policies to see how much coverage applies to your situation. Just because you are eligible for coverage does not mean a rideshare company will gladly hand it over without a challenge or legal contest.
Get the Rideshare Driver's Information
We also want to stress the importance of getting as much information as you can about the parties involved in your rideshare accident. While you might know to get the usual information like driver's license and insurance information, you should keep in mind that there could be more information available from the rideshare app. Drivers and rides can be assigned a number, which you might need to contact the rideshare company's service desk to obtain. Specific information like this can be used to better understand the at-fault party's driving history and other sources of liability.
Sorting Out Your Rideshare Accident – Call

(623) 207-1555
Rafi Law Group would be honored to help you sort through your rideshare accident claim. It is our goal to secure every penny of compensation owed to you by whatever parties might be liable for your injuries. Of course, when liability is not clear or requires investigation, we will be there to comb the details and strengthen your claim however we can. All the while, you just focus on your health and recovery.