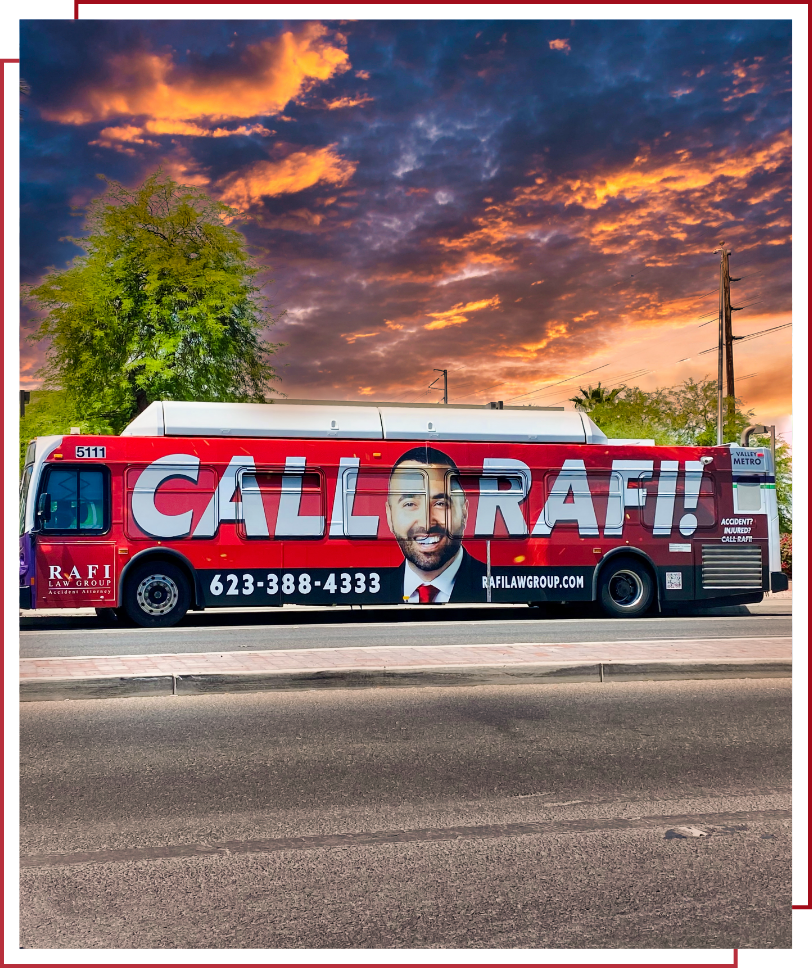 Phoenix Car Accident Lawyer
Car Accidents in Arizona
At the Rafi Law Group, our Phoenix car accident lawyer is dedicated to helping the victims of serious accidents and injuries throughout Phoenix, Arizona. According to the Arizona Department of Transportation, there were 127,056 total crashes in 2018, and over 36,000 of those crashes resulted in injury.
When You Win, We Win
At Rafi Law Group, our commitment to excellence goes beyond exceptional customer service. Our experienced staff is dedicated to helping victims of personal injuries and accidents, and always provide dedicated legal representation based on your unique case and need. Recovery is just the capstone – we believe that your safety and security and our honesty and transparency combine to create a smooth, efficient foundation for success.
Our Phoenix personal injury attorney operates on a contingency basis, which means you are not responsible for a down payment unless we recover compensation for you.
---
Injured in a car accident? Contact the Rafi Law Group today!
---
Common Car Accident Injuries
Car accidents and car-related injuries are common occurrences that can drain financial resources and often cause unnecessary amounts of stress. Some common injuries that can occur as a result of a car accident include: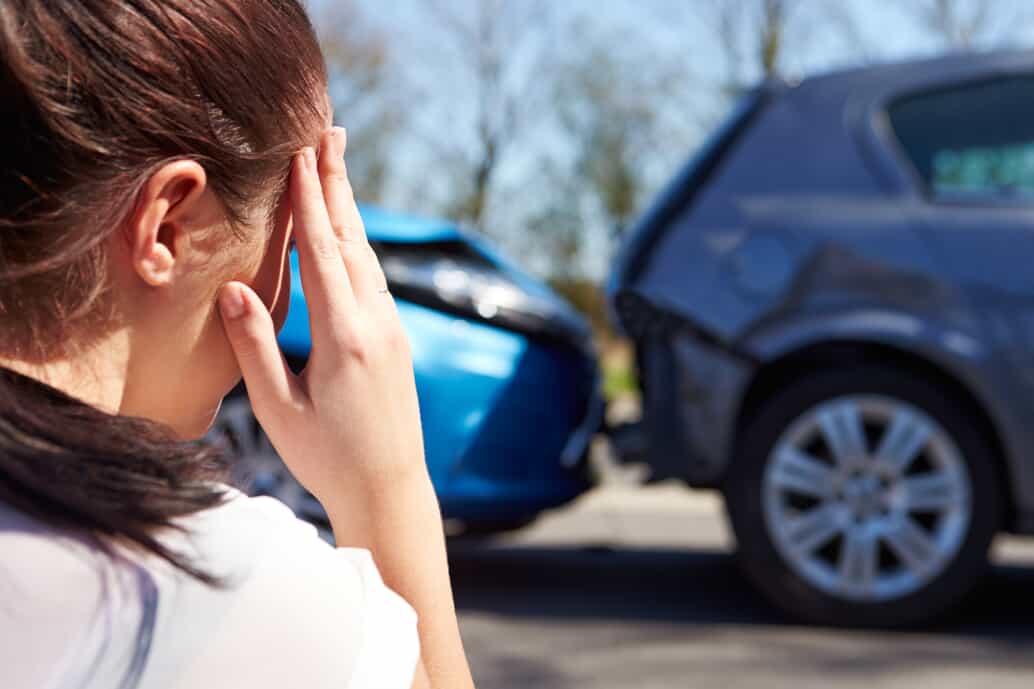 Whiplash
Neck Injuries
Brain Injuries
Concussions
Back Injuries
Herniated disks
Spinal Cord Injuries
Broken Bones
Soft Tissue Injuries
Burn Injuries
Types of Car Accidents
There are many different ways in which a car can be involved in an accident and likewise many different ways a driver or passenger can suffer from potentially devastating injuries as a result. When you are injured in a car accident, it is strongly advised that you speak with a Phoenix car accident attorney who can help you secure the compensation you are entitled to.
Head-on Collisions
Head-on collisions are the most dangerous type of car accident and have the highest fatality rate across the nation. These occur when two cars traveling opposite directions run into each other going forward. Usually these involve the most force being transferred, which means they also have the highest rate of serious injuries.
Rear-End Collisions
Not quite as fatal as head-on collisions, but still extremely dangerous when it comes to injuries, rear-end collisions are when one vehicle collides with the back of another. These are frequently caused by front vehicle suddenly slowing down or stopping or the car behind accelerating too quickly. These are usually far more dangerous to the vehicle being impacted.
Side-Impact Collisions
These accidents are also known as "t-bone collisions" and occur when the front of one vehicle or a stationary object strikes the side of another vehicle. These carry an extremely high rate of injury and fatality for occupants of the struck vehicle due to the decreased amount of metal and safety features on the sides of vehicles.
Rollover Accidents
These occur when a vehicle flips onto its side or roof, usually caused by a high-speed turn. More often than not these are self-caused accidents, though could occur as a result of a side-impact collision. These also occur far more frequently in vehicles with a higher center of gravity, such as large trucks and SUVs.
Single-Car Accidents
Single-car accidents are accidents where only one vehicle is involved, such as a car striking a pole, fire hydrant, wall, or other obstacle. These can be caused by a wide variety of factors, such as unsafe road conditions, reckless driving, lack of visibility, and many other factors. The severity of injuries from these accidents can vary widely depending on things such as speed, impact location, and more.
Why are Arizona's Highways So Dangerous?
In certain stretches of Arizona's highways, there are inordinate amounts of car accidents when compared to similar highways in other states. Why is it that some of Arizona's highways can seem so dangerous sometimes?
The answer might lie in the fact that Arizona has one of the country's highest highway speed limits, set at 75 miles per hour, which is 10 miles per hour higher than many others.
Given that many drivers will admit to traveling slightly above posted highway speed limits, it could mean that the average motorist on a highway in Arizona is traveling at 80 miles per hour or more, which makes for catastrophic crashes.
---
For dedicated assistance when you've been seriously injured, call our car accident lawyers in Phoenix at (623) 207-1555 to schedule your FREE consultation.
---
What Should I Do After an Accident?
When combined with the confusion of the moment, it can be challenging to recall specific memories that can greatly help your personal injury claim. However, it is very important that you ensure that document all that you can in order to help your attorney strengthen your case.
In addition, after an accident, you should take steps to do the following:
Seek immediate medical attention
Make sure your doctor thoroughly documents your injuries
Get the contact information of any witnesses
Document the scene of the accident, if safe to do so
Do not take any offers from an insurance company without having them reviewed
Contact a Phoenix car accident lawyer as soon as you are able
What Should You Not Do After an Accident?
The decisions you make after an accident require you to know what to do, as just mentioned, and what not to do. Sometimes doing the wrong thing can be far more harmful to your case than not doing the right thing.
When you're in a car accident, a few things you should notdo are:
Leave the scene before everything is documented, all parties are identified, insurance information is exchanged, and emergency responders can provide assistance as needed.
Apologize to another party involved in the accident because insurance companies take statements as simple as "I'm sorry" as an admission of guilt and liability.
Lie to anyone – other parties, first responders, medical providers, lawyers, etc. – for any reason because dishonesty only chips away at your chances of securing fair compensation.
Trust that the opposing insurance company wants to sincerely help you because it is their business to make sure you get as little money as possible – it's nothing personal, though.
---
Whether you are an English or Spanish speaker, have limited funds for down-payment, or just need 24/7 availability, Rafi Law Group provides the depth and experience you need. Contact our firm to schedule your free consultation today.
---
Related Reading
SHOULD I GET A LAWYER FOR A CAR ACCIDENT THAT WASN'T MY FAULT?
You are not required by law to get a lawyer after a car accident that wasn't your fault, but it may be beneficial depending on your situation. With a free consultation, you have nothing to lose by calling us to find out if a lawyer would be helpful in your specific case.
If you or your car sustained serious damage after a car accident, you'll probably get the best insurance settlement with a lawyer advocating for you. You don't always need a lawyer to help you negotiate with insurers, but the bigger the stakes, the more likely the at-fault party's insurance will try to minimize the damages or use tricky language to make you sound responsible. They can even ask for your medical records and then use them against you!
Car accident lawyers know how to deal with the endless discussions and hoops insurers force you to go through. They can also help you identify the worth of your claim by looking at circumstances beyond the initial accident. Trying to figure out insurance can be a lot of work for one person after an accident, and anyone who goes it alone should be aware they may not get the best results.
Proving Liability in a Car Accident
To receive any compensation from another party's insurance after a car accident, you first have to prove they were responsible. Taking pictures and securing witnesses who can affirm your account of the incident can help, but remember, the other party or parties involved are likely desperate to pin the blame elsewhere!
Even if they don't hire an attorney, insurance companies have in-house counsel who spend their days trying to reduce settlement amounts. Your lawyer could help you by securing experts to testify on your behalf or using advanced techniques, such as accident reconstruction. A level playing field could make the difference between a substandard settlement and enough compensation to help you fully heal.
Calculating and Collecting Damages
It's easy to know what car repairs will cost after an accident: All you have to do is ask your mechanic. When it comes to understanding what else the at-fault party's insurance should pay you, things become more complicated.
We always advise you visit a doctor as soon as you can after an accident, and make sure to ask them these questions to support your case. If you receive treatment for emotional or mental distress due to an accident, you may also be able to claim those expenses. But what about the costs of a rental car, or what if you have to miss work because you're in the hospital?
When considering what to ask for reimbursement, a lawyer can help you explore what you might be able to recover under both types of damages.
Economic Damages
Any direct costs you incur as a result of an accident are considered "economic damages." These include:
Medical bills, past and future
Lost wages
Decrease in future earnings, earning power, or earning capacity
Car repair costs
Rental car or other transportation costs
We recommend you save all receipts connected to your car accident so you can easily calculate and prove how much you are owed.
Non-Economic Damages
Non-economic damages don't come with receipts, but that doesn't mean they don't affect someone's life. Car accidents can cause devastating injuries that change a victim's ability to participate in and enjoy their life. Though we've all heard that you can't buy happiness, the loss of it has a definite cost. Non-economic damages include:
Pain and suffering, past and future
Loss of love, care, affection, and companionship
Loss of enjoyment of life
It may be hard to quantify these items on your own. An experienced car accident lawyer can help you determine a fair amount to ask for these life changes.
An insurer may refuse to offer you a fair settlement after a bad accident. If that happens, the only way to challenge their decision is to file a lawsuit. Representing yourself in mediation, arbitration, or in front of a jury isn't easy, especially against another party who's well-trained in negotiating these situations. You need someone to advocate for you in the language that judges and juries understand.
Even if you don't think a car accident case will go to court, there's no way to tell if an insurer will play fair. If you do have to file a lawsuit, a lawyer who's been with you since the beginning can help you build a stronger and more complete case than one who comes in months after the accident occurred.
What is the Average Settlement for a Car Accident Claim?
Predicting the value of a car accident claim is difficult, even when working with a car accident attorney who is backed by years of experience. Numerous factors go into each case, and each factor has the potential to decrease or increase its value. For example, your liability is a major factor in Arizona when it comes to determining how much compensation you can collect from the other party, yet liability is largely unknown until a thorough investigation can be completed.
With this said, there is no reliable way to determine the average settlement for a car accident claim. Law firms that promise to get you a certain amount because that is "what they usually get for clients" might be speaking too soon or getting in over their heads. We recommend working with an honest, straightforward legal team like the Phoenix car accident attorneys you can find at Rafi Law Group. We will never mislead you, promise things that reasonably can't be guaranteed, or leave you in the dark as your case develops.
Dedicated Assistance for Destructive Car Wrecks
Over 40 million car-related accidents take place per year. While we can't represent all of them, we can represent you.
When you've been in an auto accident and you retain Rafi Law Group, you have an experienced, sophisticated legal team on your side. We are a committed support staff that has dedicated our careers to personal injury and accident recovery, which makes our Phoenix car accident lawyer entirely committed to getting you the best possible results in your case.