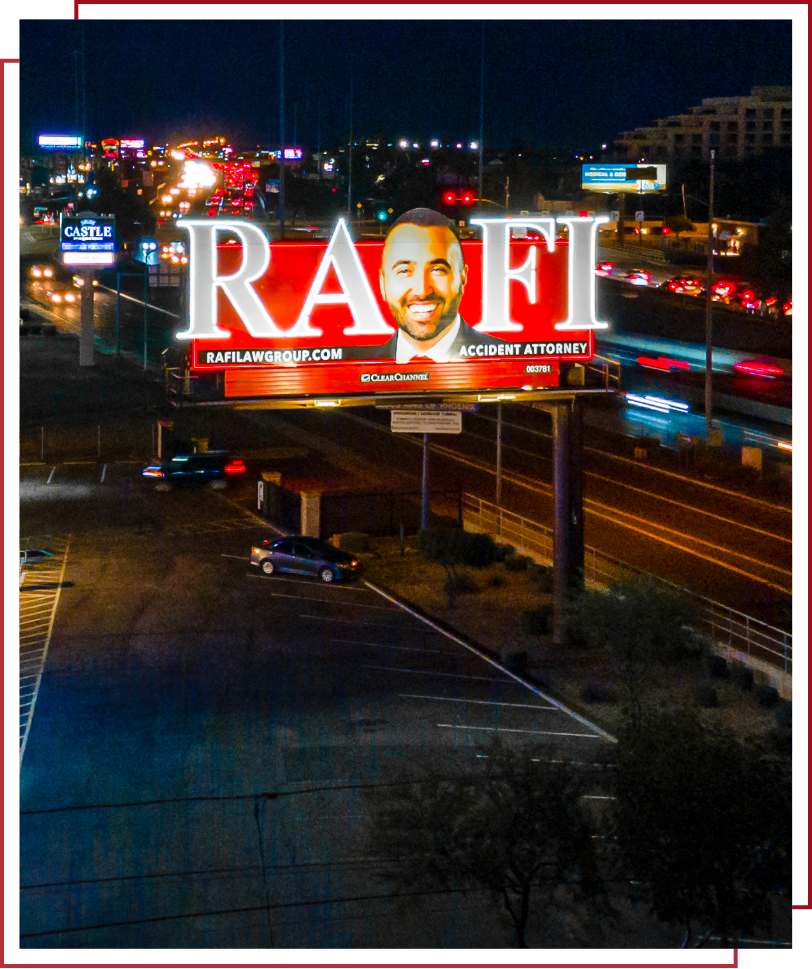 Wrongful Death Attorney in Phoenix
Helping Clients Pursue Compensation for Deceased Loved Ones
If your loved one has died due to someone else's negligence or recklessness, Rafi Law Group can help. We know this is an incredibly stressful and emotional time. That is why our Phoenix wrongful death lawyer will work hard to handle the legal aspects of your case and keep you informed throughout the process.
We believe in holding companies and individuals accountable for actions that cause harm to others, especially if those actions result in a fatal injury. Whatever your situation, we can discuss your options and tenaciously uphold your right to a financial settlement from those responsible.
On This Page
The Process of a Wrongful Death Lawsuit
Wrongful death is a legal term referring to a death caused by severe negligence or carelessness. In the state of Arizona, wrongful deaths are governed by Arizona Revised Statutes Section 12-611 to 12-613. These statutes outline when a person can file a lawsuit, who can file, and what damages can be awarded.
Types of Wrongful Death Lawsuits
While wrongful death cases typically involve negligence or carelessness, they may also involve a willful intent to cause harm to the victim. Whether your loved one died as a result of someone's negligence, recklessness, or intentional actions, our firm can help you pursue justice.
Wrongful death lawsuits may be filed for:
Medical malpractice
Intentional or criminal actions
Vehicle crashes
Occupational hazards
Death during a supervised event
Who Can Be Held Liable For a Wrongful Death?
There are a variety of parties that could be held liable in a wrongful death case. For example, you may file a wrongful death lawsuit against negligent drivers in a car or truck accident that resulted in the death of your loved one. Physicians may also be held liable for the death of patients under their care. If they fail to properly diagnose or treat a medical condition, or act carelessly and cause the death of a patient, they may face a wrongful death lawsuit. Furthermore, intentional actions aimed at inflicting harm to the victim may provide grounds for a wrongful death claim, in addition to criminal charges.
Who Can Bring a Wrongful Death Lawsuit?
Wrongful death can only be brought by specific survivors. Of the relatives of the deceased, a spouse, child, parent or guardian, or legal representative of all of these individuals can bring a wrongful death suit against the responsible party. If none of these individuals apply, the estate of the deceased can bring a wrongful death claim. However, siblings, same-sex partners, common law spouses, and other relatives cannot file a wrongful death claim against the responsible party.
If an individual related to the deceased wishes to file a wrongful death claim, he or she must decide whether the situation is appropriate. A wrongful death suit can only be submitted if the deceased person would not have died during an act and instead could have filed a personal injury suit. This section means the death must have occurred because of a wrongful act, neglect, or default, and if the person had survived, he or she would have filed a personal injury lawsuit on his or her own behalf.
Wrongful Death Statute of Limitations in Arizona
Arizona imposes a 2-year statute of limitations on wrongful death lawsuits. This means you have 2 years from the date of death to pursue compensation.
Proving Negligence in a Wrongful Death Claim
In order to pursue a wrongful death claim, you must show that:
The defendant owed a duty of care to the victim
The defendant breached that duty of care
The breach of the duty of care caused the victim's death
The victim's death resulted in the damages the plaintiff is pursuing compensation for
In essence, you must prove the defendant's negligence or guilt, just as you would in a personal injury lawsuit. Gathering evidence is a vital step in the process. Evidence may include pictures or videos of the incident, witness statements, police reports, and medical records. Our Phoenix wrongful death attorney can conduct a thorough investigation into the accident, and represent your case in court.
Pursuing Compensation in a Wrongful Death Case
Most people who file a wrongful death claim are trying to seek compensation for the losses they suffered by the absence of their loved one. Some claimants were financially dependent on the deceased. Others lost the potential earnings he or she would have provided in the future. In some cases, the family needs to sue to cover the cost of medical, funeral, and burial expenses. Last, families can sue for the value of emotional damage and loss to survivors because of the absence of their loved one.
Depending on the situation, you may pursue compensation for:
The decedent's pain and suffering
Loss of consortium
Medical expenses of the decedent prior to death
Funeral and burial expenses
Loss of companionship, care, nurturing, and guidance
Loss of the decedent's expected income and inheritance
The court will use the above and other variables to determine an appropriate level of compensation. A judge will then distribute this to the statutory survivors as he or she sees fit.
Do I Need an Attorney?
Whether you are filing a claim against an individual or a company, our firm can help. We provide thorough guidance and aggressive representation to clients wanting to hold negligent or reckless parties responsible for the death of their loved one. Having an experienced legal advocate on your side can help the process go smoothly, as well as make sure all the paperwork is filed correctly.
Pursue a Favorable Outcome with the Help of Rafi Law Group
At Rafi Law Group, we have guided numerous clients to successful legal solutions. If you need representation for a wrongful death lawsuit, we can fight on your behalf. Our Phoenix wrongful death attorney can answer your questions and walk you through the process. We have a thorough knowledge of state and federal laws regarding wrongful death claims, and can provide personal services every step of the way.
---
Contact us for a free initial consultation. We offer a contingency fee basis, so you only pay if we win your case. Call (623) 207-1555today!
---